Introduction to eformsign
Overview
eformsign is an electronic document solution that allows anyone to easily create electronic documents from paper documents and utilize various data stored in electronic documents. You can easily create electronic documents by uploading your files onto eformsign and converting the files to electronic forms via eformsign's Web Form Designer feature. You can also use eformsign's Microsoft Office add-in to create electronic forms from documents created using Microsoft Office programs including Word, Excel, and PowerPoint.
eformsign allows you to create a workflow for each template according to your company's business process. You can flexibly set a document signing process for internal documents requiring approvals as well as for external documents such as contracts, agreements, and applications. Furthermore, detailed configurations such as notifications and required input fields can be set for each workflow step or recipient, and the progress status of documents is logged as history. Moreover, an audit trail certificate is provided for the prevention of document forgery and falsification.
eformsign also provides a bulk send feature, by which users can create and send multiple documents at once and can minimize repetitive input with the auto-fill feature. Also, by adding and configuring custom fields, fields in documents such as company information, group and member information, recent input value, and date can be automatically filled in. Furthermore, eformsign allows users to easily manage companies' members and their permissions, configure detailed notification settings for documents, and manage and utilize data entered in documents by extracting input data.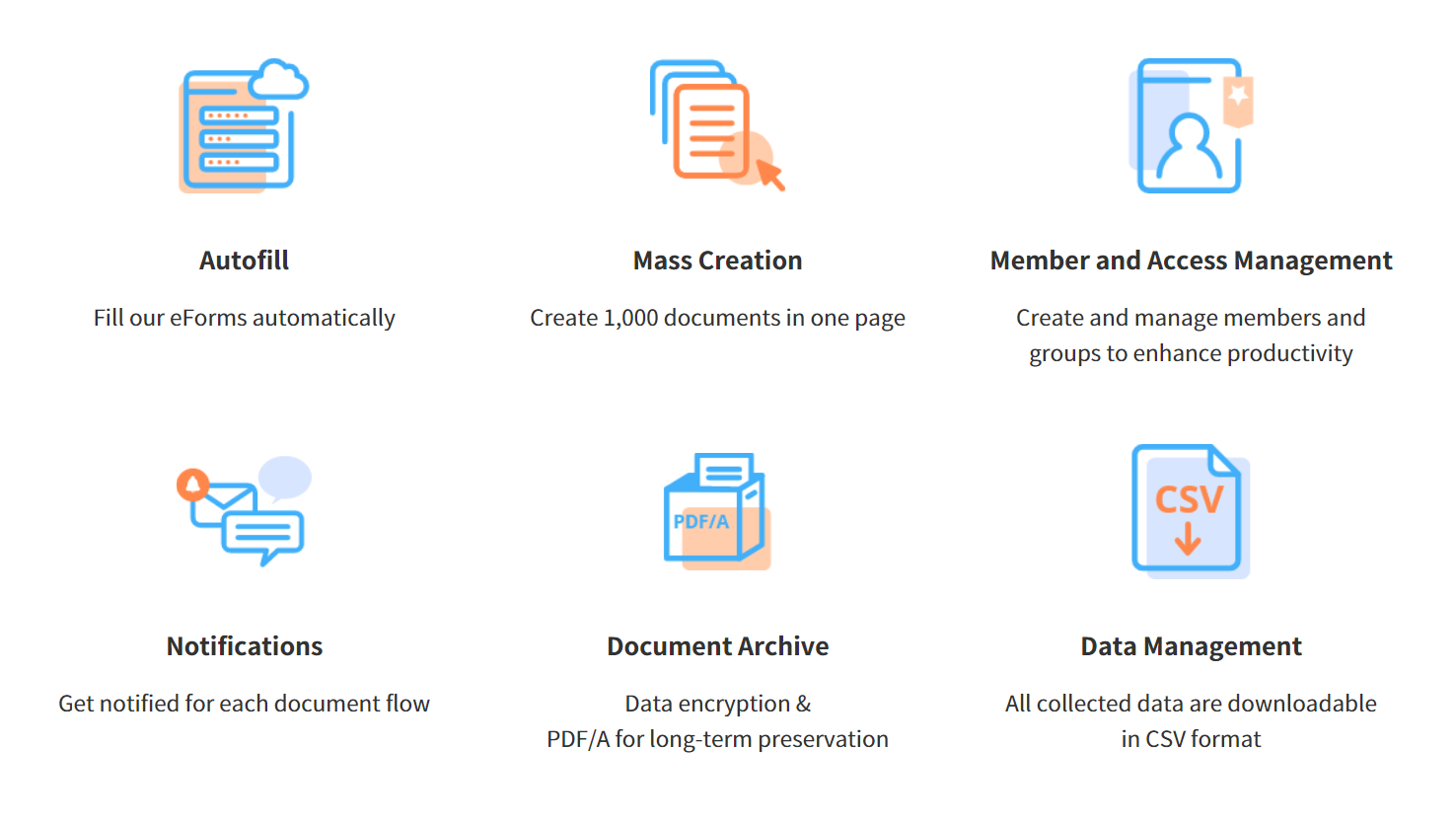 The eformsign solution also provides an electronic signature feature which allows you to sign e-signatures on electronic documents.
An electronic signature is a signature in electronic form that replaces the traditional wet-ink signature. Just as when signing a signature on paper, you need to prove that the signer is you and this is done by going through an identity verification step. Personal information such as email, social security number, password, phone number, certificate, etc. can be used to verify identity.
Electronic signatures have become legally binding in phases in the vast majority of countries around the world. eformsign's e-signature is legally-binding for individual-to-individual and corporation-to-individual contracts. As well, it provides various additional features for non-repudiation.
Note
The following describes the legal effect of electronic signatures signatures of some regions.
USA: Through the Uniform Electronic Transactions Act (UETA) enacted in 1999 and the Electronic Signature in Global and National Commerce Act (ESIGN) enacted in 2000, electronic signatures that meet specific requirements are recognized to have the same legal effect as wet signatures. There are four main requirements that must be met in order for an electronic signature to be legally binding: the intention of signing (signer certification), the intention and consent, the record of the signing process, and the preservation of the signature. Currently, 48 states in the United States have adopted electronic signature acts, and as a result, electronic signatures are recognized as having the same legal effect as handwritten signatures in almost all transactions.

EU: In accordance with eIDAS (Electronic Identification and Trust Services) regulations, all types of electronic signatures are recognized as legally effective and binding. They are categorized into Qualified Electronic Signatures (QES), Advanced Electronic Signatures (AdES), and general Electronic signatures, and their legal status is applied accordingly, corresponding to the characteristics of each type of document.

Korea: According to the Digital Signature Act, the legality of an electronic document or signature is not denied because it is in an electronic format. As well, the monopolistic status of the certificate authority has been abolished and the same legal effect is given to a variety of commercial electronic signature services. In addition, the monopoly status of accredited certificates has been abolished and the same legal effect is given to a variety of private digital signature services.

Japan: The legal effect of electronic signatures is recognized in accordance with laws on electronic signature and certification services.
[Disclaimer] Information related to the legal effect of electronic contracts and electronic signatures provided by eformsign is for general information purposes only. All information is used at your own risk and is not a substitute for professional legal advice. For legal advice and defense, please consult a qualified attorney in your area. Since eformsign cannot guarantee that all legal information of electronic contracts by country/region/technology provided by eformsign is up-to-date or accurate, eformsign makes no warranty, express or implied, as to the completeness of the legal information.